When we last spoke I shared details on how to segment analytics data by membership groups and personas. Now, let's assume that you have already optimized your analytics script and you have active and engaged members.
What's Next
We all want to continue to produce quality content, meet our strategic initiatives, and ultimately keep users coming back for more. That means the job of a content strategist is never done. Take your content to the next level using Ektron's targeted content widget.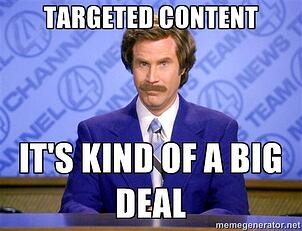 It starts with dropping a targeted content widget onto a PageBuilder template. The fun really begins as you start to set rules, or conditions, based on user behaviors, devices, referring URL, and data from membership records.
Want a few examples of how to use targeted content? Check out the below scenarios:
How likely are your members to sign up for an event that is 5 miles away when compared to an event 500 miles away? With Ektron's targeted content widget, you can display an event listing based on a user's location. This means that members who are live close and are aware of the event will be more likely to attend, which means greater turnout.
Modify featured content on a landing page based on the user's custom properties or group membership. For example, hide messaging that prompts annual dues if the user's membership is active. Instead, display details on ways users can continue their education. For instance, if you know that a member has not completed certifications, you can invite them to certification trainings or other educational opportunities that fit their needs.
For more examples for using the widget, take a look at Ektron's documentation web page.
User engagement is a two-way street and members and visitors continue to tell us over and over exactly what they are interested in – so let's start using that information to give them what they are asking for. Let us know if we can help you improve your conversation with your members by applying targeted content strategies and tactics.