As someone who has been involved in IT and technology projects of all shapes and sizes – as a business analyst, a programmer, a team lead, and a project manager, I have seen my fair share of successful and not-so-successful projects. If I were to think of the successful projects as organic vegetables and the passage of time as a vegetable juicer, there are three ingredients that will always come out of the juicer. I like to call these the three C's of successful project management.
1. Communication

(image source: http://www.dilbert.com)
Effective communication tends to be overlooked, but it is probably one of the more important, if not the most important, aspect of effective project management. Too often, project managers get caught up in the daily grind of managing the project schedule, budget, and scope and in the process forget that successful project management above all else is about being a good communicator and using communication skills to effectively manage people. In fact, it is fairly common for project managers to spend well over 90% of their time, during the course of a project, just communicating with people. In order for communications to be effective, the right message will need to be delivered to the right person at the right time using the right medium. The right message often depends on the audience – for example, an email to a programmer communicating project requirements will need to have as much technical background information as possible while a bi-weekly or monthly status report to senior management on the status of a project might just contain the high level project metrics.
The right person could be:
The Project Sponsor
A Project Stakeholder
A Project Team Member
Senior Management
An External Consultant or Subject Matter Expert
The right medium could be:
An Instant Message (which has gained popularity at the workplace in recent years)
An Email
A Phone call
A face-to-face meeting or video conference
While email works well in the workplace for a lot of scenarios, it is certainly not preferable to use email in certain circumstances – such as when you need to communicate bad news (a project running behind schedule or over budget) or if you need to negotiate with a stakeholder or a project team member. Picking up the phone and making a call is almost always a better option in these circumstances. But when you do make a call or have a face–to-face meeting, it is important to make sure that the discussions and action items from the call or meeting are clearly documented and agreed to by all parties in follow up email communications.
2. Change Management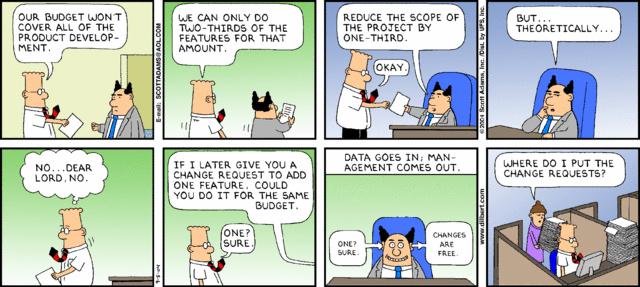 (image source: http://www.dilbert.com)
Change is the one constant when it comes to most projects. While it is ideal to have a set of requirements that do not change over the course of a project, it is highly unlikely for a number of reasons – changes in management, market demand, business needs, technology or new legal requirements are all likely to introduce changes in a project's scope. It is important for project managers to embrace change and to have a clear plan for dealing with change. A time tested approach to dealing with change is to have a clear change management plan. To keep things simple, a change management plan, as the name suggests, basically provides a framework for how, over a course of a project, a change request (CR) will be:
Generated (using a submission form template, etc.)
Tracked in the project (example, a change in log spreadsheet)
Evaluated (who will evaluate the change request, within what timeframe, and how implications to budget, schedule, scope, resources, deliverables, and quality will be identified)
Authorized (example, changes will be authorized by the client's CTO via email confirmation)
Implemented
Approved as complete
Regardless of the details of the approach that is taken, having a pre-defined approach for change management by itself is a significant step that will help deliver projects on time, within budget and deliver an end result that the stakeholders will be happy with.
3. Customer/Client Satisfaction
Delivering a project on schedule and within budget will mean very little if the client is not happy with the end result. It is important to not just get client buy-in at the beginning of the project, but it is also important to continuously get client sign-off on project deliverables as they are completed.
The first step in this process is of course making sure that ALL the stakeholders are clearly identified and documented in a stakeholder registry at the very beginning of the project. The stakeholders can be grouped by power and interest. Stakeholders that have the most power and the most interest will need to be managed closely while stakeholders at the other end of the spectrum will require minimum effort to manage as shown in the matrix below. As the project progresses, the stakeholder register will need to be reviewed on a regular basis to keep it current.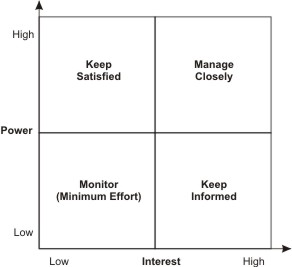 The next step is to have a clear stakeholder management plan. Typically a stakeholder management plan will identify the approach and frequency of communications required for each stakeholder. This in turn will directly impact the communications that occur over the course of the project between the project manager and the stakeholders. If a project manager follows the steps of proper stakeholder identification and management and tailors a communication plan around it, the likelihood of the client, as well as other internal and external stakeholders, being satisfied with the project's end result is very high.