Content production, such as blogging, is an effective way for associations to communicate with members, build authority, increase visibility, and drive traffic to their website.
Associations, no matter their niche, need to engage their members regularly to keep them informed and interested in the association's activities and news related to their respective industries.
Additionally, as the experts in their field, creating blog content can help associations like yours establish authority and thought leadership. By sharing insightful and informative content, associations can demonstrate their expertise and position themselves as trusted sources of information.
Content production can also help associations increase online visibility. By creating content that is optimized for search engines, associations can attract new members, sponsors, and partners to their websites. And, to double down on this tactic, sharing content on social media and other online channels also drives engaged web traffic to the website.
That's all well and good, but where do you begin? How do you come up with content topics that will resonate with your audience? Here are three easy ways to get started.
1. Use Google Search Console
Google Search Console is a free tool that allows you to optimize your website's performance, but it can also help generate new content ideas.
The tool provides insights on search engine results page (SERP) performance, queries people use that lead to your site, and top-performing pages. With this information, you can better understand audience behavior and preferences—leading to better-performing content.
For example, if you learn that a few specific queries outperform the rest, it's clear that your audience is very interested in that topic. That's a sign to write more content on the topic (such as a pillar page) to satisfy your audience's interest.
2. Check Out "Answer the Public"
Answer the Public is a free online tool that can help you generate topic ideas by showing you what people are searching for on search engines like Google.
When you enter a keyword or topic into the tool, it generates a visual map of related questions and phrases that people have searched for. These questions and phrases can then be used to create blog post titles or content ideas that address specific topics and questions related to your niche.
For example, if you wanted to create content for your audience related to the CAE certification, you could enter the keyword "certified association executive" into Answer the Public, and it would generate a list of related questions and phrases that people are asking search engines. You can then use these ideas to create blog posts and other content that addresses these specific topics and questions.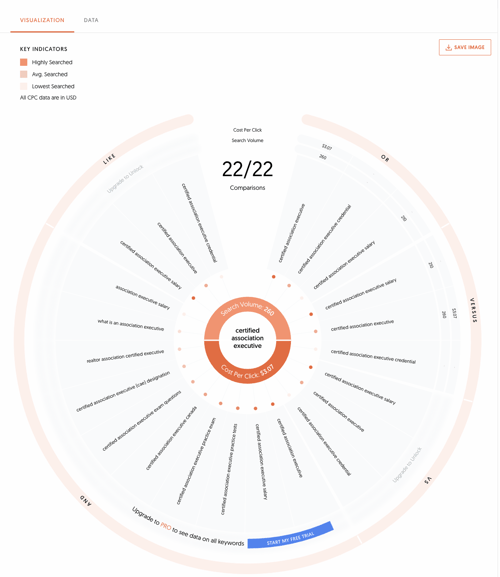 3. Figure Out What Members Are Asking Your Team
Your own team of experts interacts with your members all day long. So, what are members asking them?
Connect with people in multiple departments and have them list the most common questions they receive from members and prospective members in a week. If these individuals are asking a real person from your organization, odds are they Googled it first and came up empty.
A list of common questions is actually a list of blog topics. Simply use the question as a title, and answer the question comprehensively within the body of the blog post.
By answering these questions online, your members and prospective members will be more satisfied with your organization's service.
Nail Your Content Strategy
With limited time and resources, generating effective blog content for your members and prospects can be a challenge. Let our experts take the guesswork out of the process with research-backed editorial calendars and ongoing content production designed with your target audience in mind. Learn more about our content services here.